During the last lockdown period I made a series of portraits including this self-portrait. I portrayed myself attaching certain symbolism. The sphere represents unity and hope, the tree is a symbol of regeneration, and the stones embody endurance and stability, all of which we need to move forward in these uncertain times. On the other hand, the figure floating over my shoulders embodies my harshest critic, myself.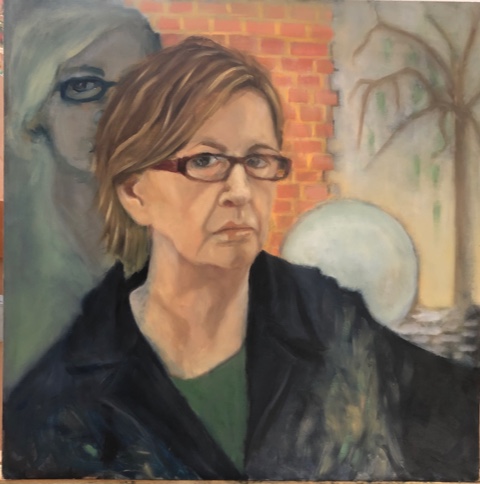 Music, Memory, Mission and Palette Paintings
Occasionally at the end of the day I would use the leftover paint from my portrait paintings to create semi-abstract images inspired by Music, Memory or Mission; in so doing, the emergence of my palette paintings were realised. It was fun to separate the intensity of my portrait painting to freely create these small works, mostly drawn with my fingers and scratched into with sticks. Central to pulling the threads of these ideas together has been the music of singer songwriter Rufus Wainwright. Some of these small scale works may be used as ideas to generate larger paintings
Just Holding On – Dream Garden 1950's
The arrival of warmer weather and longer days has made me think of the "Memory" of a garden from my childhood.
The garden in question belonged to family friends, the victorian house built in the centre of the plot with the garden wrapping around the property; the attached greenhouse was filled with exotic fruit and overlooked a sunken garden; there were several ponds containing goldfish and frogs, linked by tributaries; summer houses, flowers, fruit trees with hammocks all added to the magic and it was an exciting place for a five year old to explore.
In one of my palette works I subconsciously drew on that memory and this work emerged, it is also referencing recent memory and the trauma of covid and how we have all been "just holding on" suggested in this work by the linked figures that form the circle.
As we move forward I feel the gentle colour of this work suggests feelings of hope.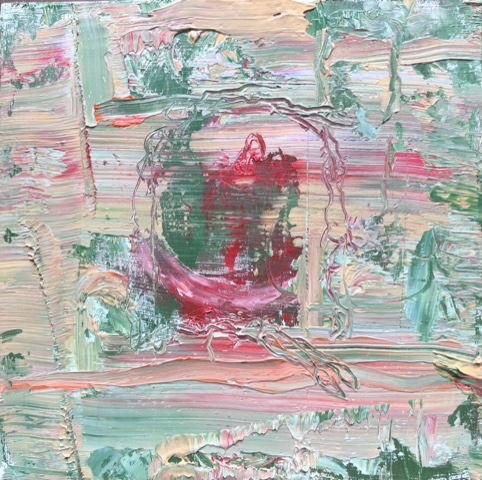 Displaced I
The mission works are inspired by current news or articles that evoke injustice in one form or another; an example of this was a recent podcast given by Nobel Prize Winner and activist Malala Yousafzai; she was accompanied by three young women to discuss the effect of being displaced as children by war or by politics from their native countries leaving all possessions behind and confusion as to where their future would lie, and how despite the traumas they had all experienced were eventually given education and opportunities in their host countries enabling these inspirational young women to have a fulfilled and successful life. Impressed by the stories of their personal journeys I was inspired to create new works, this being one.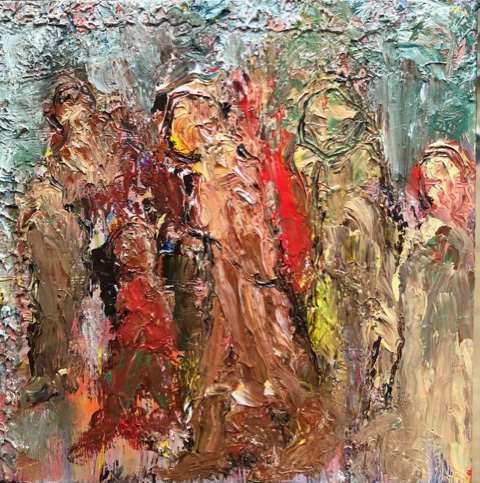 Some Things Never Change, 1985 – 2021
This painting is now complete.