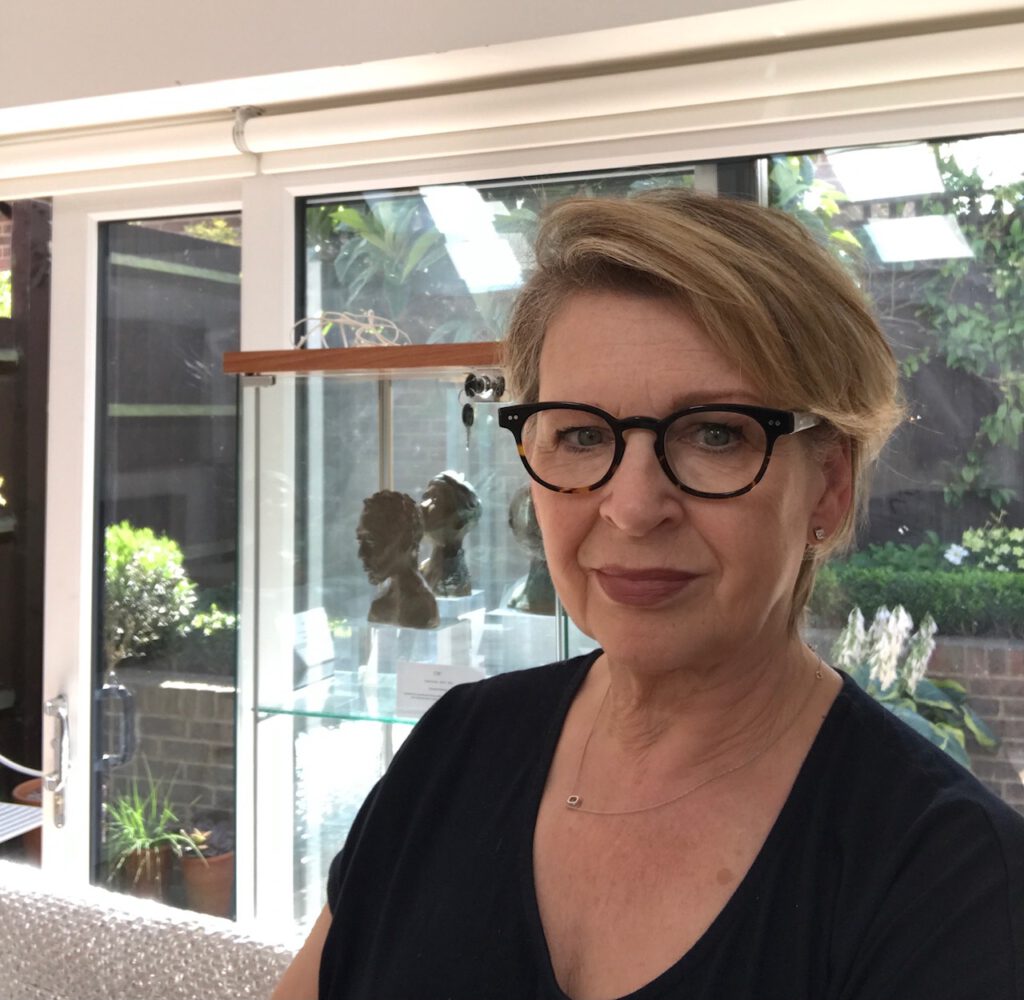 Carol Wagstaff is an award winning visual artist whose work observes and responds to the ever changing world that we inhabit. Born in London, and growing up in Hertfordshire, she lives in West Sussex, her home for the past thirty years.
After a career in the beauty industry, and with a keen interest in all things creative, she decided to fulfil her ambition to embark on a foundation course, followed by a Degree in Fine Art, graduating in 1998 with a BA(Hons); the movement in art schools at that time was inclined towards conceptual work and Carol was drawn to sculpture and installation. Post Degree opportunities arose for a residency in Amsterdam, followed by the National Trust in London and in Sussex. Early works were principally minimalist and sculptural, but the draw of paint always a passion, was reignited when Carol accepted a commission to create a suite of paintings and prints for a music company. Since then her work has embodied a more reflective expressive place fusing painting and sculpture, art which often addresses the uncomfortable effects upon us all of environmental changes and global conflicts; she has gained international awards and commendations for work that depict the impact of human decisions that affect us all; her images are often made in response to ongoing humanitarian crisis and disenfranchised peoples across the world. Inspiration is often taken from her own photography and drawings, or imagery found through the media, these components, combined with a preference to work from instinct and memory provide the stimulus for most of her output as an artist; despite the fact that some elements of her work challenge and linger in the darkness, there is no doubt that behind the work is a quest for hope as she feels her way through the mediums of paint and clay to explore her response to, and vision of, the world.
Over the past two decades she has exhibited Nationally and Internationally in selected group and solo exhibitions and has work included in many private collections in the UK, Europe, Japan and America. Recent selected exhibitions have included, the Royal Ulster Academy, Belfast, the Discerning Eye, the Mall Galleries, London, and the Ruth Borchard Self Portrait Exhibition, London. receiving awards for work that suggest the impact of human decisions that affect us all. Aside from many private commissions she has created installations for the UK's National Trust in London and in Sussex and enjoyed residencies in selected Museums, both here and abroad.
Carol is an elected member of the Association of Sussex Artists. Critical analysis of her work has been written by Timothy Warrington of the Federation of Art Critics and Sean Parfitt, Artist and Curator.
Personal Statement
My early works were conceptual in nature within the context of drawing, sculpture and installation, my recent work however leans toward a more figurative form in both painting and in sculpture. My work is generally an spontaneous and gestural response to issues that's interest me; resource material is often from my own collection of photography and drawings or from imagery found through the media or articles read, reimagined then reinterpreted. Subject matter is often in response to ongoing humanitarian crisis across the world and environmental issues. The portrait has become a recent focus of interest within my work as a vehicle to convey emotion.
2020
Selected work – Discerning Eye – London
Solo exhibition @ The Victoria Institute – Arundel – West Sussex
2019
Group exhibition – Skyway Gallery – Shoreham
Selected work -Association of Sussex Artists
Selected work – Ruth Borchard Portrait exhibition – London
Sussex Art Fair – Goodwood
Steyning Arts – Open Studio
Group exhibition- Artistic Licence – Wilson Studio – Oxmarket – Chichester
2018
Selected work -Discerning Eye – Mall Galleries London
Selected work – Association of Sussex Artists
Selected work – Royal Ulster Acadamy of Arts
Steyning Arts – Open Studio
Solo Retrospective – Responses & Reflections – Horsham Museum and Art
2017
Selected – The National Open Art exhibition – London
Selected – Discerning Eye competition, Mall Galleries London
Steyning Arts – Group exhibition – Oxmarket – Chichester
Selected – Association of Sussex Artists – Horsham
Selected – London Biennale, Chelsea – London
2016
Shortlisted – National Open Art competition – London
Selected – Association Sussex Artists – Horsham
Selected – Discerning Eye – Mall Galleries – London
Gaglardi Gallery – Chelsea – London
2015
Two person exhibition – Isso Gallery – Japan
International Biennale Tuscany – Italy
2014
Selected group – Isso Gallery – Kyoto – Japan
Group Exhibition – Malaga – Spain
2013
Two person exhibition – Narenj Gallery – London
Selected – International London Biennale – London
2012
Selected exhibition – Art & Escape Gallery – London
2011
To Call the Wind to Strike a Butterfly – Worthing Museum & Art Gallery
Selected show – Art & Escape Gallery – London
Selected show – EWACC – London
2010
Art & Escape Gallery – London
Group Exhibition – EWACC – London
2009
Selected work – Art & Escape Gallery – London
Anthony Gormley – One & Other Project – Trafalgar Square – London
Group Exhibition – EWACC – Lennox Gallery – London
Solo exhibition – Worthing Museum – West Sussex
Group show – Horsham Museum, West Sussex
2008
Artist/Curator – Wiston House – Sussex
2007
Selected group – Moncrieff Bray – Petworth – West Sussex
2006
Commission – Series of paintings/drawings/prints for a private home
Oberon Gallery – Burnham Beeches – Bucks
2005
Solo Exhibition – Christopher Gull – Brighton – West Sussex
Selected work – Kunst Art Event – Netherlands
2004
The Brighton Art Fair – Winner of the Christopher Gull prize
Selected Exhibition – Chichester Cathedral – Sculpture in Paradise – West Sussex
Series of Commissioned works for a Brighton Apartment
2003
Public/Private – Group Exhibition – The Place, Letchworth – Hertfordshire
Private commission – series of Paintings/Prints – Corporate project – North London
2002
Saddlers Row Gallery – West Sussex
Group Exhibition – The Place – Letchworth – Hertfordshire
Commissioned works for Two Private Homes – North London
2001
Selected group – Art House Foundations – Peterborough – The Visual Haiku
Group Exhibition One Year On – The Place – Letchworth – Hertfordshire
Selected work – National Park Partnership – Scarborough Museums and Galleries
2000
Commission – Plantation – National Trust – Standen – West Sussex
Selected work – Chichester Open – West Sussex
Selected work – Discerning Eye Exhibition – Mall Galleries – London
One Year On – The Place – Knebworth – Hertfordshire
Hung, Drawn & Quartered Drawing Exhibition – Phoenix Gallery – Brighton
1999
Magazijn 1999 Exhibition – Crossfire Perific Arts – Amsterdam
Selected group – Garlic and Sapphires in the Mud – Jersey Galleries Osterley – London
Group Exhibition – One Year On – Knebworth – Hertfordshire
1998
Tracks Three – site-specific residential project – Crossfire Perific Arts – Amsterdam
Degree Show – University of Hertfordshire
1997
Four Women Artists -Intersection Exhibition – John Jones Gallery – London
Education
1993 – 1998
Fine Arts Degree, BA (Hons) University of Hertfordshire
1991 – 1993
Foundation Course – St Albans School of Art and Design – Hertfordshire
Residencies
Tracks Three – Amsterdam
Osterley Park – London
Standen – East Grinstead – Sussex
Solo Shows
Christopher Gull Award – Winner of Brighton Art Fair public vote
Worthing Museum & Art Gallery – To Call The Wind to Strike a Butterfly
Responses & Reflections – Horsham Museum & Art Gallery
Awards
London Biennale – International Award for Painting.
Chianciano Biennale – Tuscany Italy – Leonardo Award for Painting
Highly commended – Association of Sussex Artists